INTERVAL °12 | 17.9.2022 | Essen, Germany
Since 2013 INTERVAL offers a platform for international performance artists to meet and exchange ideas, strategies and concepts.
For this edition two international artists will be invited to INTERVAL°12 to explore the public space in Essen with all its multifaceted diversity and to develop and present sitespecifc performative work.

So, come and see Performance Art which will expand the the public places with multi-layered, processual, political and poetic images.
City Center Essen (Kopstadtplatz)

Saturday:
17th of September 2022 – 3 pm

Liina Emilia Kuittinen (FIN)
Anette Friedrich Johannessen (NO)
free entrance
contact on the way: +49 176 23512133With friendly assistance of Kulturamt Essen.
Liina Kuittinen

As an artist I am on my four. I am next to the ground. I see the surface from a very short distance, the small particles and the space between them. As an artist I have to move my whole body closer to the object if I want to see it more clearly. I am on my four so my hands are not swinging freely. I am not able to take the object in my hand and bring it closer to my eye. I have to take my eye closer to the object.
 
The main materials in my practice are body and performance. Performance is for me about going on in the world.  It is about happening, taking place, about moving and changing.
Working mainly in the field of performance art, Liina Kuittinen's background is in the visual arts. Born 1983, her work has been shown in the context of festivals and events but also in galleries and on Instagram. Liina received her MA in fine arts at the Fine Arts Academy in Helsinki, Finland in 2017.
 
Photo: Peter Rosvik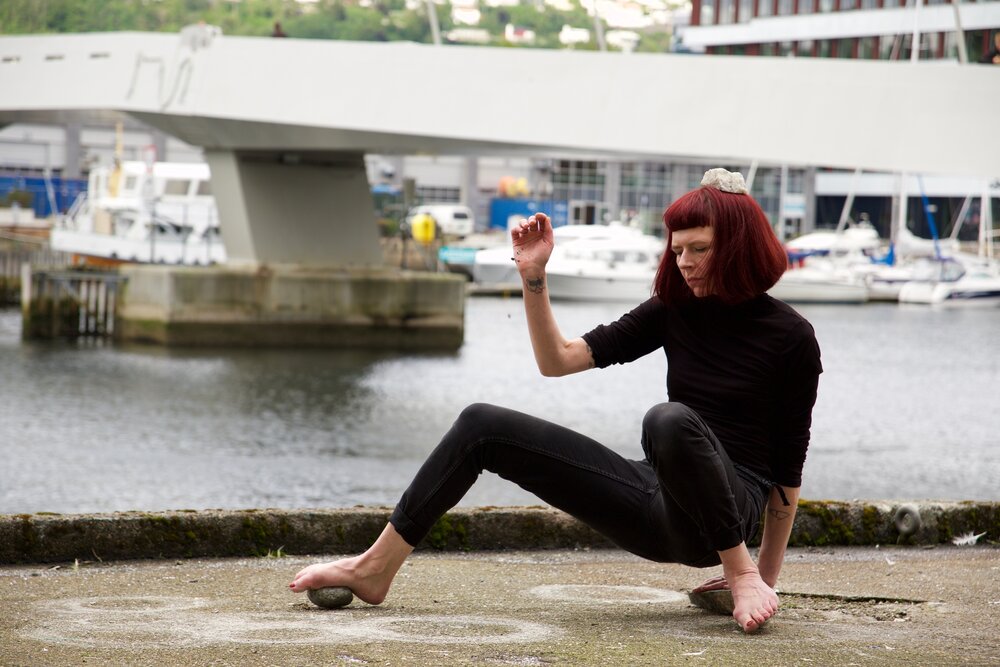 Anette Friedrich Johannessen

Anette Friedrich Johannessen is a multidisciplinary artist, working with performance, video, drawing and text-based work.
She holds a BFA from Camberwell College of Arts, London, and has participated in several festivals, exhibitions and events (both solo and collaboratively) in Europe, USA and Asia.

Working from Bergen (Norway), Anette is today artistic director of Performance Art Bergen and is one of the co-organizers of Public performances in Bergen and the district around the city, called Open Sessions. Her artistic practice is highly inspired by Open Sessions, where the main concept is that art in public space is an expression of democratic thought, where art can, and should, be a shared experience.

The core element in Anette Friedrich Johannesen's artistic practice is an investigation on sensory experience, repetition, minimal gestures and place identity. She seeks to define different types of systems and how they relate to chaos and order. This process is about understanding human rituals, and to which extent they are a part of our nature. In her work, she discusses mankind's relationship to nature, social structures, and technology. How should we as humans relate to our ever-changing environment, and how can we as individuals adapt while at the same time figuring out how to balance our instinctive nature and technological progress?

Photo: Kim William Fonseca