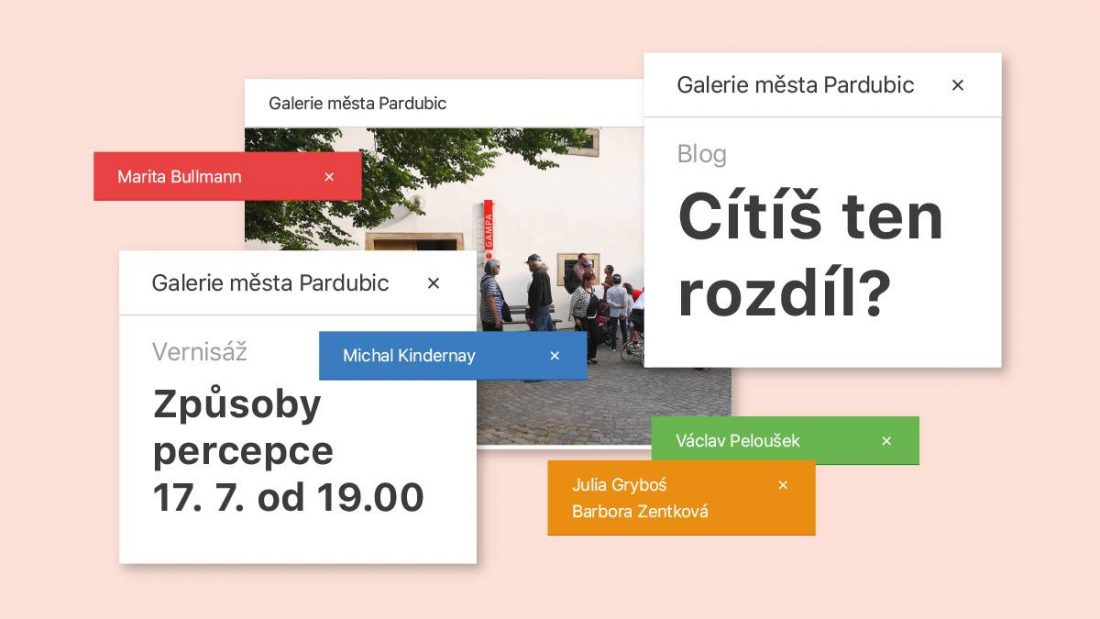 Způsoby percepce | 17.07. – 30.09.2018 | Galerie města – Pardubic | Czech Republic
Feel warmly welcome!
17.7.2018 // 19h Vernissage with Performance and Concert!
Zbystřit smysly a všimnout si jen těžko postřehnutelného. Vrstvu po vrstvě odhalovat kontext prostoru, místa, doby. Cítíš ten rozdíl?
Václav, Marita, Michal i tvůrčí dvojice Julia s Barborou ve svých projektech vždy pečlivě ohledávají konkrétní situaci, vztahují se k ní, hledají netušené souvislosti a vedou otevřený dialog s místem. Každý po svém, svými metodami, tvůrčími postupy i technikami a technologiemi. Společným výsledkem jejich práce je pak výzva k absolvování cesty intenzivnějšího prožitku. Jejich projekty využívají různorodé vyjadřovací prostředky, jsou impulsem k tomu se zamyslet, oživit náš vztah ke skutečnosti, prasknout bublinu nevědomí, rozšířit své zorné pole.
Kolik smyslů máš, tolikrát jsi člověkem?
Zmiňovaní autoři a autorky zapojení do výstavního projektu byli osloveni, aby své instalace vytvořili přímo pro prostory galerie na Příhrádku. Nic ze šuplíku. Pro kurátora adrenalin i příjemná výzva. Bude to fungovat? Nebude v den vernisáže galerie zet prázdnotou? Jistě že ne! Vzájemná důvěra a vědomí správného výběru je v tomto a obdobných projektech klíčová, tak jako komunikace a produkční podpora. Radost a napětí až do poslední chvíle. Jaké to bude – je – bylo? Jsme zas na začátku: místo, čas a kontext ve své vzájemnosti. Výstava jako jednota; umělecký exkurs bezprostřední zkušenosti.